So that night that I did the topiary and plaque and holder- this was my motivator:
Blank not so pretty wall in my basement!
I had already hung the shelf brackets when I realized I needed a "before" photo :)
Ahhhhh! So much better! I hate blank walls! Anyone else with me?
I got the mini shelf wedges at JoAnnes for a killer $4! (for the set!)
One more look at my favorite new plaque (not vinyl!) Go
HERE
for tutorial
And that FREE topiary!
HERE
for tutorial
My 6 year old bought me the "J" for my birhtday (she knows my style!)
Total Cost: Shelves= $4, Frame= $1, Topiary= FREE, Plaque= FREE, grass= FREE (thanks Erin!), and "J"= FREE (gift), picture of Dog= .11 cents!
Total=$5.11 Not Bad!
Now go use up your craft scraps!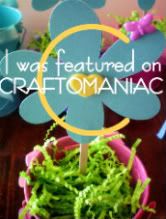 Thanks Jen! You are always so sweet to me!!!