LOVE THIS!!! This project was so much fun and easy (and cheap) that I want to do tons more! I payed under $10 for all four pillows! They turned out so much better than I thought they would! A few months ago I saw a couple blogs that had spray painted pillows on them, so I decided to give it a shot since that is about the only thing I hadn't spray painted yet!
Here is what you will need:
*Duck cloth (or plain outdoor canvas)
*Freezer Paper (must be freezer paper, not wax or parchment)
*Spray paint
*Frog tape - if you do stripes (it works so great! The paint will not bleed! You buy it in the paint department)
I didn't want to make new pillows that I would have to store (I am running out of room), so I decided to just make slip covers for the pillows I already have on my porch. My pillows are 16x16 so I cut the fabric into 17x17" squares.
I then cut out stencils on freezer paper using my cricut. You could also do this by just free handing your design, or printing out images from the Internet and cutting and tracing them onto the freezer paper. The polka dots are 2"
The "BOO" font is
Jackolantern
from
Dafont.com
The scull and webs were from dingbats I found on
Dafont.com
. Just click on Halloween fonts and there is tons of fun stuff.
I then ironed on the freezer paper cut outs. At first I put a cloth over the paper to iron, but the paper didn't stick, you have to iron straight on the paper for it to stick. (shiny side down!) My iron was as hot as it goes and it worked great.
This is Frog Tape. Make sure to press it down firmly. I didn't measure my dots or stripes, I just eyeballed them and you can't tell they aren't perfect!
Now for the fun part, spray pain!!! I used satin black and cinnamon stick in satin as well.
now for the reveal... I was so dang excited when I first started peeling off the paper - I couldn't believe how great it worked!!!
The black didn't work quite as well, the color isn't as consistent as the orange, and my spider web bled a little because my son got a hold of the stencil and wrinkled it so it wouldn't iron flat. Oh-well, still madly in love!
I then just put right sides together and sewed a half inch seam on three sides.
Turn right-side out.
Stuff in pillow...
Tadaa!!! I love, love, love, love, love, LOVE them!!!! (did I say I how much I love them?) :D
I am going to put some velcro or snaps along the bottom edge to hold them shut, but that will have to wait for now, I couldn't wait to put them out.
Sorry for the picture overload, but I am in love! :)
This project can be seen on...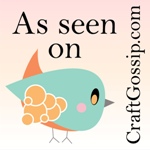 Thank you! Thank you!!!